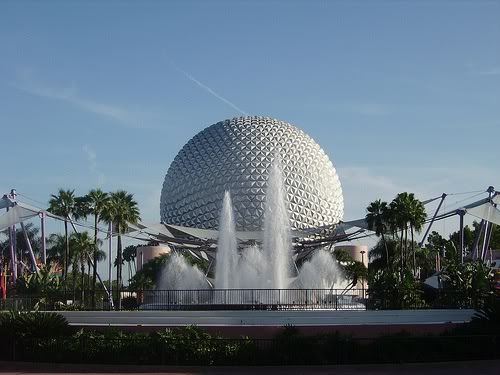 Epcot is a park that really grew on me as I went more and more. But it's definitely not a one day park if you plan on doing everything! Split into 2 sections, Future World and World Showcase, there are more food options here than in any other park.
So I've split Epcot into 2 sections. Today we'll do Future World, tomorrow we'll work on World Showcase!
Let's get started then, shall we?
We'll start with Breakfast! Fountainview Cafe really has a lot of good options if you're looking for something for a quick breakfast... from simple cookies to beautiful pastries and even hand scooped ice cream and sundaes! You know... if you're into that sort of thing for breakfast.

And you're on vacation. So you should totally be into that sort of thing for breakfast!
Pastries range in price from $1.99 to $4.99 depending on the pastry, ice cream ranges from $2.69 to $4.09 depending on the scoops and type of cone. You can find this in Future World past Spaceship Earth on the right side!
Ah how the hubby and I have giggled about that! The Electric Umbrella is a counter service in Future World, on the opposite side of Fountain View Cafe. It serves standard fare, burgers and chicken nuggets. The menu changes pretty regularly though, for example the chicken sandwich in the picture here is no longer available (a turkey club has taken it's place).
I still included this picture simply because you never know when things are going to come back!
There's another really surprising part of this counter service though... the drinks are refillable! That's right, Epcot is the only park in all of property who actually allows you to refill your drinks.
And on a hot day, that's heaven!
The chicken breast nuggets are $6.59, the Chicken Sandwich is no longer available but is generally $8.59 like it's predecessor the Turkey Club!
Here's a beautiful little counter service, hidden in the Land Pavilion, you won't be able to miss it on your way to one of Future Land's premier rides Soarin. This is Sunshine Seasons... and it definitely does not serve your standard fare!!
Deli sandwiches, chinese dishes, even rotisserie chicken! This is where you want to go if you're sick of the burgers and pizza that other counter services tend to throw at us. Not that there is anything wrong with that...
My family always said my theme song was "Cheeseburger in Paradise" after all.
But here when you're done you can even head over to the dessert counter and choose from over 10 different bakery desserts!
Pictured here we have a Smoked Ham and Salami sandwich on Asiago Ciabatta with a side for $9.19 and Turkey and Monterey Jack Cheese on Foccacia with chipotle mayonnaise and a side for $8.59. And trust me, these sandwiches are as big as your head! For dessert in the first picture you have Asian Chocolate Cheesecake for $3.99 and a Fruit Tulip for $3.69. Delicious!
In the second picture we've visited the Chinese counter and picked up a combination plate with both Sweet and Sour Chicken and Szechuan Beef. There's also white rice and lo main noodles as you do get 2 sides and it's all $9.99. There's also some Butterfinger Cheesecake here for $3.99.
And trust me when I say that Szechuan Beef? Woo is that spicy!
I learned the hard way...
Also in the Land Pavilion, up on the top floor is a neat little restaurant called Garden Grill. This is an all you can eat character buffet, similar in some ways to Crystal Palace but it's served family style just like Liberty Tree Tavern.
The food here is wholesome, much of it coming from the Land Pavilion's greenhouses on the floor below! Grilled Salt and Pepper Flank Steak, Roasted Turkey Breast with orange-cranberry relish, Seasonal Fish of the day... seasonal veggies and a seasonal dessert! The one pictured here is an oldie but a goodie... their wonderful bread pudding!
Made the Chipmunks go mad I tell you... MAD.
Garden Grill has another unique part to the restaurant in that the entire thing rotates! Not like a tilt-a-whirl or anything, but very slowly, so that you get to see parts of the Living with the Land ride as well as different sections of the pavilion. Neat huh?
For this awesome feast dinner is $39.99 for adults, children come in at $14.99 and drinks are included, yay!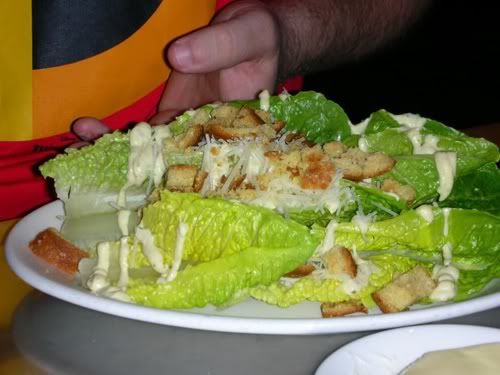 The final place in Future World is one of the most beautiful and unique! Coral Reef is a restaurant located as a part of the Seas Pavilion, home now to The Seas with Nemo and Friends. The pavilion is home to one of the the largest aquariums in the nation. In fact, this aquarium is so large you could take Spaceship Earth (That giant golf ball, you know the one) and put it in this aquarium... and it still will be able to roll around!
And the best part of this is that the entire wall of Coral Reef is giant windows into this large aquarium. While you dine you can watch the over 8,000 residents swim and have fun!
And you can enjoy some of the best Cesar Salad, NY Strip Steak, Grilled Mahi Mahi and Chocolate Lava Cake (Called the Wave) around!
The
Caesar Salad with shredded parmesan cheese and croutons comes in at $6.99. The Grilled Mahi Mahi is topped with a spicy pineapple chutney over cashew-jasmine rice finished with a coconut rum beurre blanc for $25.99. The Grilled New York Strip Steak is served with roasted potatoes, watercress, and tomotoes tossed in caramelized shallot vinaigrette for $30.99. And everyone's favorite Chocolate Wave is served with brandied raspberries, and look out this one has alcohol most specifically Grand Marnier for $7.99.