Some of you I believe will know this park as Disney's Hollywood Studios. Others will know this as MGM Studios. I go back and forth between the two myself... I almost always catch myself calling it MGM when I am in a hurry!
About 3 years ago Disney's contract with Metro Goldwyn Mayer ended and the MGM was taken out of the name, replaced with a bit more generic Hollywood Studios choosing instead to focus on many different types of film genres and how films are made.
There are actually two restaurants here I am not going to be touching upon today. The Brown Derby, which is actually a signature restaurant and will be gone over in that post, and Hollywood and Vine which in the last few years has been a character dining experience for Playhouse Disney. I think it would look odd for 2 grown adults with no children to be at an experience aimed at small ones, so we've avoided it. I'm actually also not going to be touching on the ABC Commissary, because more people get sick from that place than any other on property. I'm so not contributing to that!
But I do have 4 amazing restaurants to cover, which I am very excited for!
So let's get started, shall we?
I cannot tell you about the first restaurant without showing you a bit of inside. You see, Sci-Fi Drive In Restaurant literally looks like a drive in on the inside! The walls and ceiling look like the night sky, the tables are literally giant retro cars, and all facing a giant movie screen playing old B sci-fi movies. Some of the tables are regular tables fit into cars, some of the tables actually have you sitting inside the car seats! It's a restaurant that is just a ton of fun.
Now the food here is as fun as the atmosphere, especially for lunch. Pictured here first is one of my favorites, Spinach and Artichoke Dip for two. This is so creamy and good! And I don't like artichokes on a good day... but I love this dip. It's a blend of Monterey Jack, Swiss and Asiago cheeses with spinach and artichokes and multicolored tortilla chips. And yes it is meant to share!
Next we have the hubby's favorite, BLT Soup. I always have to giggle at how much he loves this soup, as it very basically is a creamy tomato soup topped with an herb crouton, shredded lettuce and bacon. I keep telling him I'm going to make it for him here at home. Whenever we decide to go to Sci-Fi he gets all giddy cause it means he can have his BLT soup again!
Then we have the BBQ Chicken Sandwich which as ultimately now turned into the Italian Grilled Chicken Sandwich. This grilled chicken sandwich had provolone cheeses, BBQ sauce and onion strings on top. When Disney changed a lot of their menus to be a slight healthier it turned into the Italian Grilled Chicken Sandwich which is basically the same thing but with a Bruschetta toping instead of the cheese onions and sauce. Still good, just different.
Finally we have the Angus Chuck Burger. Oh yes! My family always said that my theme song was Cheeseburger in Paradise and for good reason. If there's a good burger on the menu, I'm going to get it. And this one's no exception. You can top this baby with either cheddar or swiss cheese, sauteed onions, mushrooms or even crispy bacon. And they will cook it however you request. I personally like my meat mooing. But I never said I was proper.
You can get the Spinach and Artichoke Dip for Two for $7.99, the BLT Soup for $6.99, the new Italian Grilled Chicken Sandwich for $13.99 and the Angus Chuck Burger for $12.99.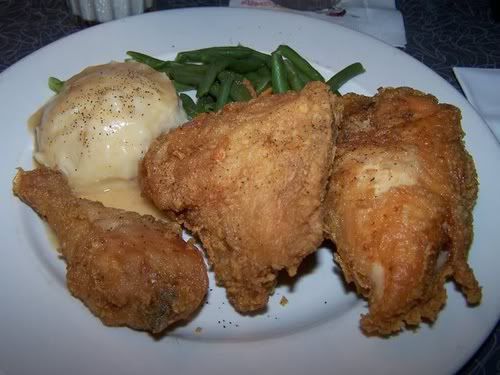 Next we have 50's Prime Time Cafe, and what a restaurant this is! Everything is decked out to look like your home during the 50's, right down to the knick knacks all around the restaurant. Each table even has a small (very small!) TV playing clips from sitcoms in the 50s including Leave it to Beaver and even I Married Joan which is hilarious.
The servers even get into a bit! Okay, more than a bit. Names like Aunt Betty and Cousin Brian come out to serve you, and even scold you for not eating all your vegetable or putting your elbows on the table! In fact, you better eat all those veggies, or you'll get them back for dessert, with whipped cream and a cherry on top!
Pictured first here is what I always get, Aunt Liz's Golden Fried Chicken. This is some delicious chicken and what a plate you get! Served with mashed potatoes, chicken gravy and southern greens (Or Green Beans if you're anything like me) this will actually fill you to the top! There's just so much of it on the plate and every single bite truly is delicious!
Next is the hubby's favorite, Mom's Old Fashioned Pot Roast. This is a bit more like most of us are used to, without the wine braising that you get over at Liberty Tree Tavern in the Magic Kingdom. This is just a simple, slow cooked roast served with mashed potatoes, carrots, celery and onions. As you can see, we kind of have an old fashioned comfort food theme going here!
The desserts here are nothing short of fun though! First we have Dad's Brownie Sundae. Things on a sundae I'd never think to put! Caramel Corn, M&Ms, and depending on the day you might even see a whole host of sprinkles on top! Of course there is also hot fudge, whipped cream and a cherry on top of this vanilla ice cream brownie sundae!
Then we have S'mores. This is one of the more popular desserts in the restaurant to be honest. It's a layer of graham crackers, and a thin layer of chocolate topped with marshmallows and then torched across the top! They then drizzle some chocolate sauce and hand you a spoon. It's like camping without having to pitch a tent!
You can get the Aunt Liz's Golden Fried Chicken for $14.99, Mom's Old Fashioned Pot Roast for $16.99, Dad's Brownie Sundae for $5.99 and S'mores for $4.79. Just don't forget to finish your vegetables!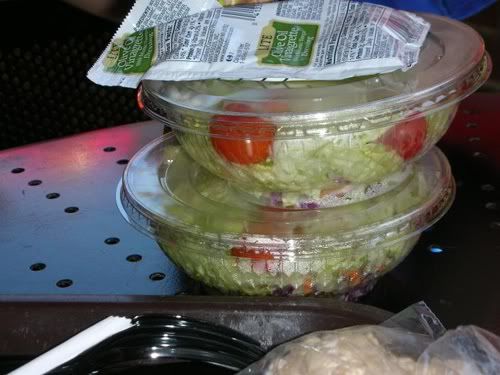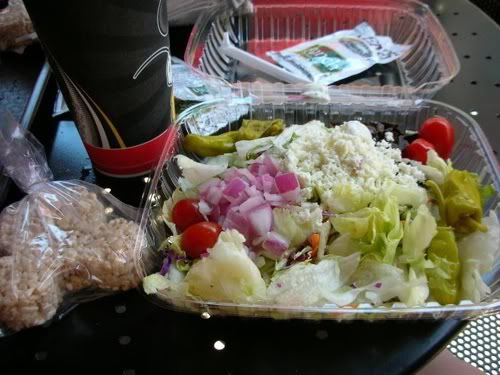 The hubby and I are suckers for a good Pizza counter service, and I truly think the best one lies in Disney's Hollywood Studios. Have you ever seen Toy Story? Good. Remember when Woody meets the green aliens? They were in a place called Pizza Planet, right? Well Pizza Planet has made it's way to Disney Property and you can now find it right outside of the Muppets 3D show!
You can get a great meal deal, as pictured here with Pepperoni Pizza and a Garden Salad. There are giant bins of dressing to the side as well, so you can choose whatever kind you want! There's also, as pictured some beautiful salads including this Italian one in the 3rd picture!
Not much to say except for yummy to all of it! You can get the Pepperoni Pizza Meal Deal for only $8.29, the Italian Salad for $6.69.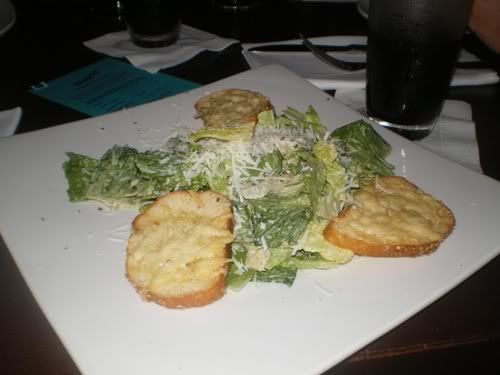 Last but certainly not least is Mama Melrose's. This little restaurant is tucked in a corner of the park, in fact unless you knew what you were looking for you may not even see it as you walk past! I know we didn't the first few times. However once you get in this restaurant is truly massive! It's good Italian food if you're craving it!
This is also home to one of the best Caesar Salads on property in my opinion! Romaine lettuce, a sweet yet savory Caesar dressing and a few crostini's make this salad so beautiful and so delicious. It's definitely worth it as your first course, even though there are a lot of other choices on the menu. I recommend this above all else!
Then we come to what I had. Again, because I'm pretty boring. Oven Baked Chicken alla Parmesan. Pretty straight forward but oh so delicious! The coating on this is light, not heavy at all and the cheese is crispy and melty at the same time. Served over Spaghetti and in a light marinara sauce.
Now I do have to admit I kind of wish I had gotten this next dish like hubby! This is Penne Alla Vodka. With pancetta and sweet onions, this dish is finished with a tomato basil sauce, cream, vodka and pecorino romano cheese. Oh my goodness was this dish to die for! Creamy, smooth, and just hits your nose with delicious smells before it gets anywhere near your mouth. It's definitely worth getting, even if you've never had Vodka Sauce before!
Finally we have Mama's Tiramisu. It's pretty standard as far as tiramisu goes, but I do like that it comes in it's own edible cup! You can tell that it's pretty freshly made too, as every once in a while you get that ladyfinger that is not quite soaked all the way, and it just gives you a nice sweet flavor.
You can get the Caesar Salad for $5.49, the Oven Baked Chicken alla Parmesan for $16.99, the Penne Alla Vodka also for $16.99 and Mama's Tiramisu for $5.99 during dinner. This is also a Fantasmic Dinner Package restaurant, so I do recommend reservations. If you'd like the dinner package there is a Prix Fixe menu, but you will get reserved seating to Fantasmic.
Come on over on Monday as we start our Resorts section, starting with the Deluxe Resorts! I know I can't wait!