I have been so looking forward to this post! The hubby and I love Animal Kingdom for some of the more unique attractions there such as the Safari and Expedition Everest, but the food there is some of the most unique and delicious as well!
Animal Kingdom is divided into 4 parts of the park... Camp Minnie Mickey, Africa, Asia and Dinoland USA. Now, Dinoland doesn't really have any restaurants (At least I haven't visited Restauranosaurus since McDonald's pulled out) nor does Camp Minnie Mickey (Though it does have delicious snack booths!) but we're going to do our best to trek through some of the more deliciousness that is Animal Kingdom.
Let's get started, shall we?
Ah Campfire Treats. Located right outside the Festival of the Lion King show at Camp Minnie Mickey you can get some delicious soft serve ice cream, sundaes and even soda floats. Being the purest that I am, I like a good ice cream waffle cone on a hot day! You can get one for $3.79 in traditional soft serve flavors.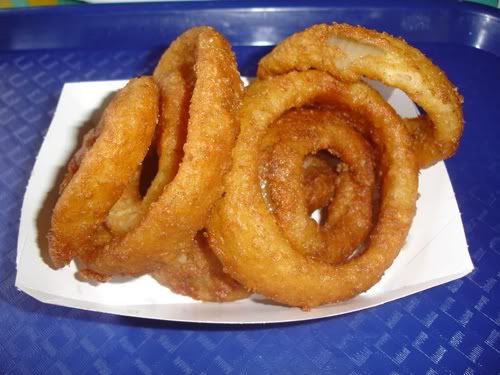 If you are looking for some good BBQ, look no further than Flame Tree BBQ located right outside of Dinoland USA and has some of the most delicious food and smells you can partake in!
Pictured here are the Onion Rings basket, which honestly is absolutely delicious and big enough to share with quite a few. They do fresh fry these, and they are just tender as all get out. Worth it!
Next we have the 1/2 Slab of St. Louis Ribs. This is served with a corn muffin and baked beans and let me tell you folks, I don't like baked beans and the hubby doesn't like ribs. We both gobbled every part of this plate up!! The ribs are just fall off the bone and the baked beans are actually kind of smoky sweet. So delicious!
Then we have the shredded brisket (or pork) sandwich. I thought the hubby was going to be in heaven the rest of the day. This man loves brisket. Probably more than me. And this was just delicious to him! And again, those baked beans were the bomb!
And finally, if you're looking for something refreshing but still healthy on a really hot day, try out the seasonal Fruit Plate! These fruits are so delicious and will actually quench that sweet tooth, especially in the middle of a hot Florida summer, much better than ice cream will.
The Onion Ring plate is $3.79, the 1/2 slab of St. Louis Ribs is $10.49, the Shredded Brisket or Pork sandwich is $8.49 and the Seasonal Fresh Fruit plate is $6.99.
Before we found Flame Tree BBQ we absolutely loved (and still do) Pizzafari. The theming really inside the restaurant in beautiful, each room having a different theme.
Pictured here, well there's a lot in the first picture! We have the Pizzafari Cheese Pizza, which in and of itself is just delicious. Then we also have a Chicken Caesar Salad which makes eating healthy taste sooooo good. And generally I don't eat healthy during vacation! Last we have the Breadsticks. Oh my goodness I would eat a meal just of these breadsticks! They are so warm and soft and delicious with the melted cheese and marinara sauce... oh god.
The second picture is a sandwich that is actually no longer carried. I post it here in the everlasting hope that they put it back on the menu or hubby will never ever go back to this restaurant. This the Chicken Parmesan sandwich. It's basically chicken parmesan on a bun. And it is delicious! The removal was recent, so we're hoping it does come back by summer.
You can get the Cheese Pizza for $7.99 or add Pepperoni for $8.29, the Chicken Caesar Salad for $7.79 and the Breadsticks for $3.99, but you may want to get 2 orders of this!
Tusker House is a restaurant situated in the heart of Africa, and it actually long ago used to be a Counter Service restaurant as it was the first time the hubby and I ever went to the world. However in about 2007/2008 they turned this one into a Table Service, being a character breakfast in the morning and a full African Buffet for lunch and dinner.
I unfortunately haven't been to Lunch or Dinner here but I have been to the breakfast and it really is delicious! Combining American breakfast with traditional African breakfast favorites it's a great buffet with some pretty interesting selections! You can see here some traditional potatoes, bacon, cheese blintzes, even some veggie frittata. But then we also have some Beef Bobtie Quiche, Yam Casserole and Spiced Beef Hash. And it all is delicious!
You can visit Tusker House for Donald's Safari Breakfast for $20.99 for adults and $11.99 for children. Non-alcoholic drinks are included, and peak times may be subject to holiday pricing. You'll meet Mickey, Donald, Daisy and Goofy all dressed for Safari!
I was so so so so so glad to see them build this restaurant! This is Yak and Yeti, located in Asia and went up around the same time that Tusker House was converted to a Table Service Restaurant. You see, for years Animal Kingdom didn't really have a table service (other than the Rainforest Cafe outside the park) so Disney finally realized that table services were needed!
This little restaurant is a great Asian inspired one, with some delicious dishes. I would go back here several times a day if I could, but the hubby won't let me.
Here was have in the first picture both Pork Pot Stickers, which are either pan seared or steamed and served with a soy lime dipping sauce and Pork Egg Rolls served with a chili plum dipping sauce. Generally I get the egg rolls and hubby gets the pot stickers. We're pretty much creatures of habit in that way.
Next is my favorite, the Sweet and Sour Chicken, which you can also get as pork. These pieces of meat are tempura battered and fried with ginger, garlic, bell peppers and pineapple and tossed in a red sweet and sour sauce. You can choose brown or jasmine rice here and I really like either or, depending on my mood.
The Crispy Honey Chicken seems to be a favorite of those who aren't real sure about Chinese yet, or even if you're craving something sweet. This is tempura battered chicken with broccoli, carrots and tossed in a sweet honey sauce and served with the brown rice or jasmine rice. Now for this one I do recommend the jasmine rice as I've found it balances the flavors just a bit more than the brown rice.
Finally we have dessert, my favorite part of here! This unique dessert is simply called Fried Wontons. This is skewers of fresh pineapple and cream cheese wontons, with vanilla ice cream on the side all drizzled with a honey vanilla sauce. Talk about delicious! It's so unique yet so simple, I may have to try making it at home sometime!
You can get the Pork Pot Stickers for $7.99, the Pork Egg Rolls also for $7.99. The Sweet and Sour Chicken or Pork will run $17.49 as well as the Crispy Honey Chicken. The Fried Wontons are also $7.99.
Now attached to Yak and Yeti outside is a counter service serving similar dishes that you can find the restaurant. The portions are not quite as big and you don't get the full desserts or appetizers but it's a great lunch option or a light dinner.
First here is the Honey Glazed Chicken again, and it does look a little different I know. It's served in a traditional Chinese takeout box, and actually does not come with rice (as far as I know, it has been a few months and it could have changed as the dining is constantly evolving). It really is the same Honey Glazed Chicken as is in the restaurant.
Next we have some Shrimp Lo Main. This is actually an excellent dish. It is again, exactly as it is inside, just smaller in portion.
Most of the dishes inside for main courses run between $17.49 and $22.99 depending on what you are ordering. However the Honey Glazed Chicken at the counter service will run $9.99 and the Shrimp Lo Main is $10.99. Definitely worth giving a try!
Join me tomorrow for our final Theme Park, Disney's Hollywood Studios. It will be up tomorrow to... I already have the post done! Then it's off to resorts and signatures!