Happy Birthday to my hubby! Yes, that's right, it's his birthday today! And since I am a sucker and totally make him delicious food whenever he asks for it, I decided to make him a peanut butter chocolate cake today!
Now it's not just any peanut butter chocolate cake, oh no. This baby's from scratch.
That's right. Scratch.
Dun dun dun.
But I know it's worth it. Delicious, moist and the look on his face always makes the baking worth it!
Let's get started shall we?
Not a lot going on in this cake actually. The cake is just chocolate, the peanut butter comes from the frosting and peanuts on the side. The ingredients are some that you may already have at home in fact, or at least only have to run out and get one or two things!
Now the first thing we are going to want to do is melt our chocolate, since it does need to cool slightly.
Go ahead and microwave this for about a minute. The chocolate should start to look like this...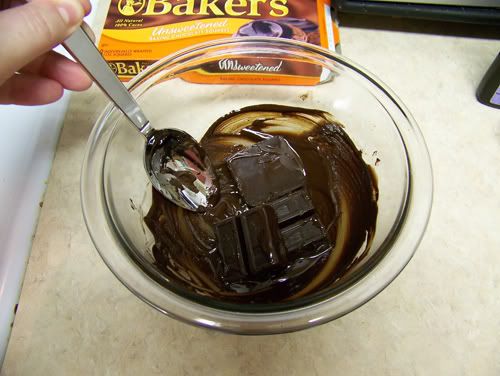 Stir it up and microwave in 30 second intervals until it looks like this...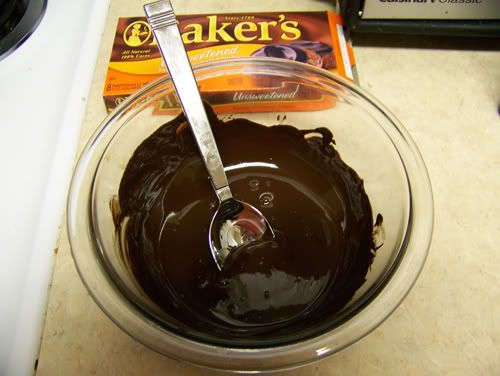 And it only took 1 30 second interval for my chocolate to melt. I just made sure to stir it nicely to get the rest melted after the first time.
Go ahead and set that aside to cool a bit.
Now you're going to want to throw 2 and 1/4 cups of packed brown sugar...
And mix it with a hand mixer until it's "light and fluffy" or at least well combined. You don't want to see any chunks of butter in here.
Now throw in your eggs...
And your chocolate...
Try to get it in the actual teaspoon too. Unless you want to be reckless like me.
But no one wants that.
We need the flour!
Go ahead and get out your sifter that you use once a year or if you're anything like me just pealed the sticker off of because you've never used it...
And throw in 2 and 1/4 cup of all purpose flour...
2 level teaspoons of baking soda...
And 1/2 teaspoon of salt...
Trust me. I know this.
Now add about half of your 8 oz container of sour cream...
Aaaaaand mix.
Once it's all combined it's going to have expanded like so...
Now comes the hard part. The waiting!
Let these sit for about 10 minutes in the pan before transferring them to a wire rack to cool the rest of the way...
Speaking of frosting, let's make ours!
Again, not a whole lot going on. This isn't exactly a low fat cake though, 2 sticks of butter.
But who said birthday's are for diets? Not me.
Take your 2 sticks of soften butter...
And 4 cups of powdered sugar, which is going to look like a blizzard on the butter and peanut butter...
And mix it with your hand mixer until it's smooth.
And by smooth I mean the consistency of peanut butter dough. It's not going to look smooth at all yet!
Put in 1/4 of a cup of milk...
Take a handful of salted peanuts and put them in a food processor, or magic bullet or heck smash them in a plastic bag with a can!
We want a rough chop on this, not pulverized peanut dust.
Hopefully by now your cake is cooled! If not, you are going to want to wait a few more minutes for this to happen.
Because now we're going to cut each cake in half!
I choose my Snow glass dish because I'm evilly ironic.
And frost that! Feel free to put as much or as little frosting on as you'd like... but remember, we do have other layers as well!
I know I didn't think I could!
Now plop some of that frosting on the top and get to work!
Get all your sides frosted well, trust me you're going to use all of that frosting you just made!
Remember those peanuts?
Now that is a beautiful cake!
Too bad it's going to be all gone soon!
Excuse me, I know better than to blog with a full plate.
Happy birthday to hubby!